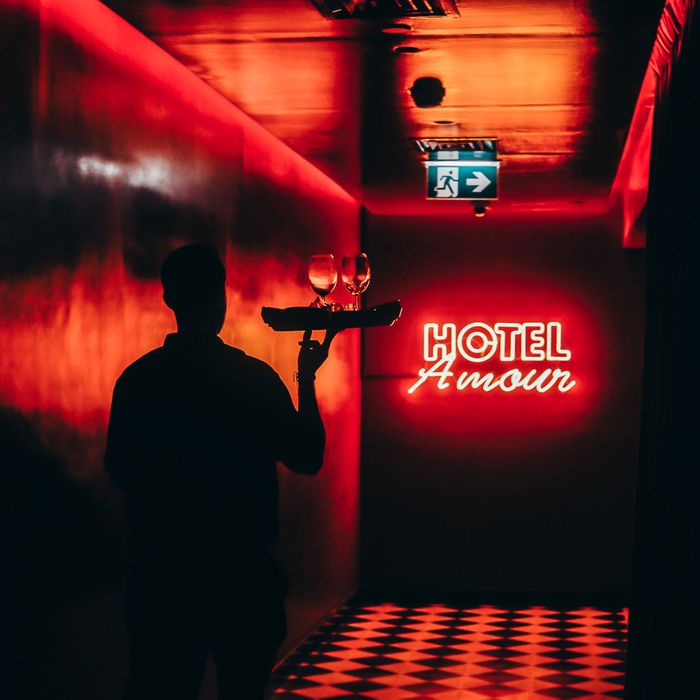 Barbary in Dubai.
Photo: Natalie Lines/Courtesy of Barbary
A chill sundowner overlooking the desert dunes can sometimes be just the ticket. Or maybe it's a private table, oversize bottles of Dom Pérignon, and an impromptu performance by Jason Derulo in a bumping club. However you prefer to spend your Friday or Saturday night — or any night in the Middle East's party capital, for that matter — you can rest assured that the emirate's Vegas-like atmosphere will provide. We asked a filmmaker, an artist, and a free-wheeling party girl to map out their best multi-stop itineraries for a memorable night out.
A taste of old-school Dubai
The perfect night out, according to Amirah Tajdin, a filmmaker.
Start here >> Al Nasr Leisureland
"For a glimpse of the real Dubai, a spot of late afternoon bowling and a glass of watered-down whiskey at this ultra-kitsch time warp is the best place to begin. It's the cheapest bowling alley in town — and easily the dingiest — but the one with the most character. It's also the only one where you can get a cheap drink. Only long-time Dubai residents know about Al Nasr; they love it because there's not a drop of pretense. It is what it is, sticky floors and all."
Second stop >> Fish Hut
"It's a very simple gem in the depths of Bur Dubai. This is great seafood [think char-grilled sea bream and oats-fried shrimp] at very reasonable prices. My friends and I have been picking up takeout here for years."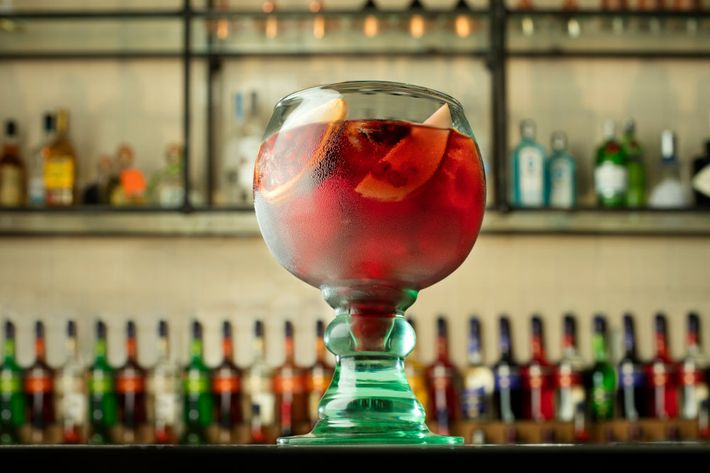 Third stop >> Toro + KO
"For proper drinks, we regroup in Jumeirah, at City Walk. The development geographically straddles old and new Dubai well with stylish licensed restaurants and bars. Head up the stairs to Toro & KO's brilliant bar for some chic Moscow mules and potent sangria. The balcony overlooks the main pedestrian artery of City Walk, and the lively atmosphere makes it a great warm-up for what comes next."
Last stop >> Club Africana
"Back in the old part of Dubai, head to the two-star Rush Inn Hotel, smiling at the Cameroonian, Kenyan, and Nigerian bouncers on the way in. The sounds of live Lingala music coming from behind a nondescript door will make you want to sashay your way right through. There's a red hue on the dance floor, thanks to a neon Boogie Nights light. The scent of popcorn battles with strong perfume, wafting across the room from the ladies of the night in the corner. The dance floor shakes as a ten-piece band, headed by the most charismatic showman this side of the Sahara, transforms this sticky, sweaty nightclub into a full-blown African carnival."
Country-club cocktails and classy bar-hopping
The perfect night out, according to Jonathan Gent, artist and owner of Cabin café.
Start here >> Dubai Polo & Equestrian Club
"Silence and nature: two sacred things in Dubai, which is why the polo club is the best starting place for a Friday night. Arrive just before sunset, then find a comfortable wicker chair looking out across the huge lawn. Dubai Polo serves an exceptional ice-cold dirty martini. Calm and cool, this place delivers an escape like no other in the city. If you're lucky, you might even catch a game in action."
Second stop >> The Maine Oyster Bar & Grill
"From the heart of the desert, it's always nice to head for the sea. After cocktails, I love the ride to the ocean. Dubai at night takes on a special Michael Mann light. Blade Runner meets Heat — all broken palm trees and blue neon. Located at the southernmost tip of Jumeirah Beach Residence is where you'll find the Maine Oyster & Grill. The restaurant is hidden in a wee garage at the basement of the DoubleTree by Hilton, JBR. Just look out for cheeky 'Shuck Me' sign outside the front gate. The effect at the Maine is that of a fisherman's warehouse plucked from the shores of America's East Coast, transformed into a cool seaside brasserie, and plonked back down again in the car park of a Dubai hotel. Order the oysters, lobster rolls, and the delightful truffle pizza, which literally drips in cheese and black truffle."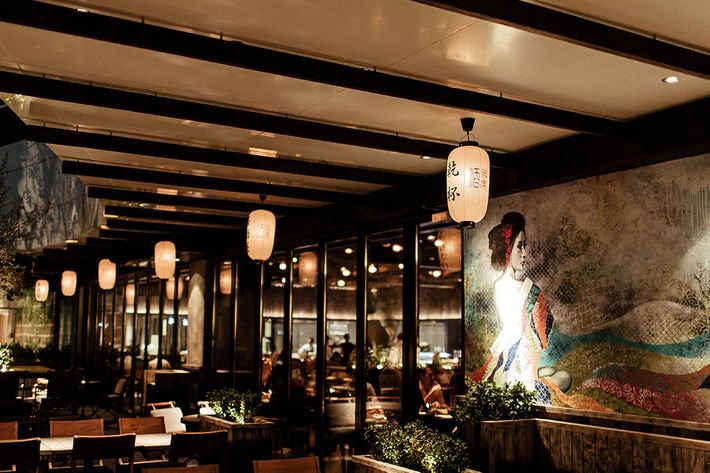 Third stop >> Ramusake
"Just an elevator ride away, this sassy, sultry South Kensington import fuses a New York speakeasy with Tokyo's izakaya vibes — and it's only one level up from the Maine. Head for the balcony, order a cold carafe of sake, and enjoy the sea breeze."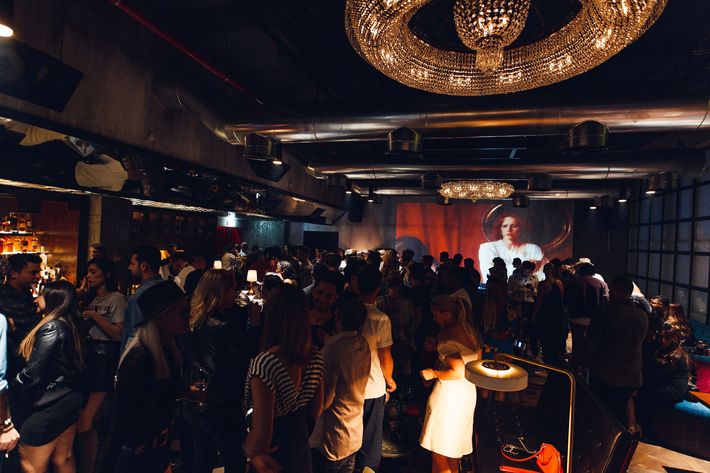 Last stop >> Barbary
"To keep the pace just so, hop in a cab to Tecom [a.k.a. Barsha Heights]. It's not a particularly nice neighborhood, full of dusty office buildings, construction work, and empty sand lots, but it is home to the sexy new Barbary bar. Red velvet curtains block out the outside light pollution, while the crystal chandeliers and lacy lamps create a boudoir atmosphere inside. Round out the night with a couple of the bar's Woodford Reserve Old-Fashioneds as you slump in a cushy sofa, swearing to return in the morning for their pork-riddled British breakfast and Bloody Marys."
Sparklers and Champagne, with a side order of sushi
The perfect night out, according to Dominique Laird, entertainment manager at Solutions Leisure Restaurant Group by day and Dubai socialite by night.
First stop >> Drai's Beachclub
"The best city for nightclubs is also the best city for beach clubs. That means girls in bikinis, loud dance music, and plenty of alcohol by the pool. Las Vegas import Drai's — located at Meydan Racecourse, far from the beach — is the newest opening in town where everyone wants to see and be seen. It's a chilled but well-heeled glamfest with free-flowing cocktails and women riding golden swan inflatables."
Second Stop >> Zuma
"For a chic dinner, line your stomach at Zuma. The famous Japanese restaurant regularly tops 'best restaurant' lists in Dubai. The enormous venue has a smoky upstairs bar filled with the Dubai International Financial Centre banker set, while downstairs in the restaurant is a mix of couples on romantic dates and big parties pregaming in style. Be sure to order the miso black cod accompanied by slow sips of Mai Tai. Reservations are hard to come by, so book that table well in advance."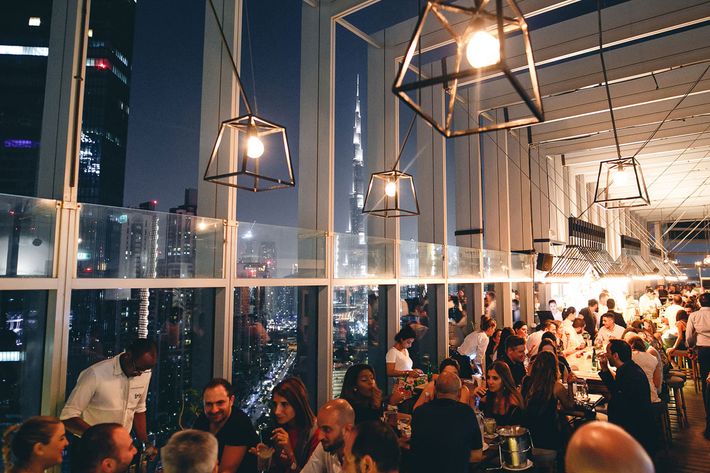 Third Stop >> Iris
"Just before hitting the club, head to this beautiful rooftop space in Business Bay. Elbow your way through the crowd and onto the terrace which overlooks Downtown Dubai and the Burj Khalifa. Order a few shots and be on your way."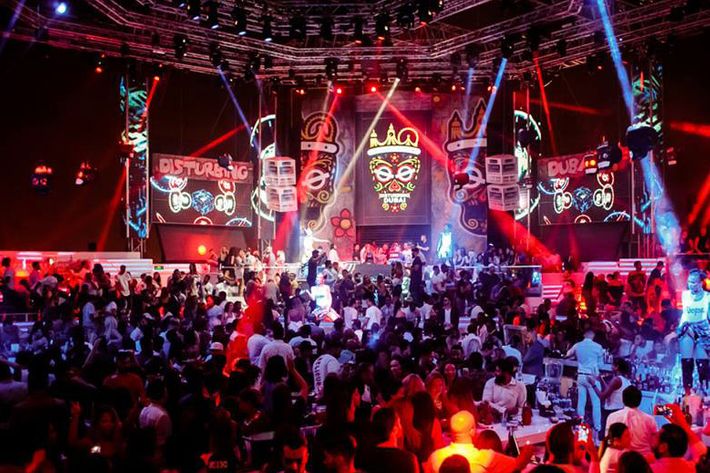 Last stop >> White Dubai
"At midnight, while most head home, our night's just getting started. This award-winning rooftop venue will have you dancing harder than the strobing lights above. And I dare you to keep up with the acrobatic women hanging from the overhead truss. Gargantuan Champagne bottles topped with flaming sparklers arrive sporadically at private tables across the club. Head down on a Friday night for music from international house and tech-house stars. Hip-hop event URBN on Saturdays has won awards, too, with beats being juggled by Dubai regulars Danny Neville and Devon Kosoko. Also expect to see international superstars like Jason Derulo, Rita Ora, and Tinie Tempah performing impromptu gigs around 2 a.m."