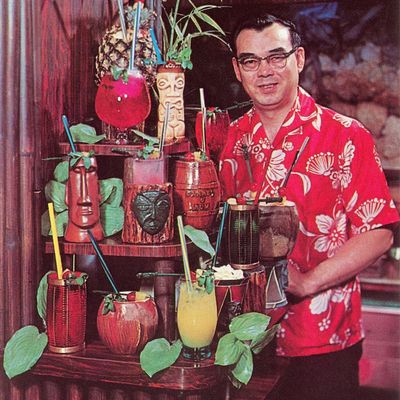 Tiki bartender with exotic drinks in the 1960s.
Photo: Found Image Holdings Inc/Corbis via Getty Images
The bar scene in Honolulu is as diverse as the city itself, slinging polished cocktails and craft beers alongside neo-tiki concoctions. The neon-hued umbrella drinks of yore still exist, of course, but as five local bartenders explain here, more varied and nuanced tipples await those who seek them out.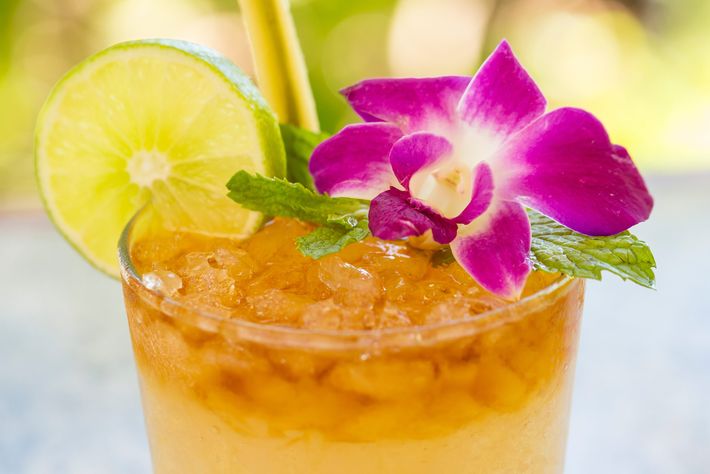 For a classic mai tai, go here …
Lewers Lounge
"I'm really picky when it comes to mai tais, and there are very few places that do them right. Lewers Lounge is a dimly lit piano bar in the Halekulani Hotel. Francesco Lafranconi and Dale DeGroff both lent their hands to the cocktail menu here, and it shows. Lewers's version of the classic 1944 mai tai is [modeled after] Trader Vic's and it's awesome. Note to gentlemen: Be sure to wear a jacket or one will be provided for you." —Christian Self, owner of Bevy cocktail bar and lounge in Kaka'ako
For an updated mai tai, go here …
Bevy
"They do a nice variation on a classic mai tai. [It's called a Mai Thai and made with Bacardi 8 rum, Falernum, orange curaçao, lemongrass syrup, lime juice, and candied-ginger foam]. I like visiting toward the end of the night, after I've finished working, for a nightcap. On weekends, there may be a DJ wrapping up a set, but the vibe is always loose and casual. Check their Instagram account for the cocktail of the day, which uses local ingredients." —Justin Park, co-owner of Bar Leather Apron
For pure cocktail artistry, go here …
Pint + Jigger
"Dave Newman, the bar manager and genius behind Pint + Jigger, is meticulous in his trade, and it shows in his bartenders. Their extensive training and liquor knowledge will blow you away. One of their house cocktails, the mesquite-smoked Manhattan, is an all-time favorite of mine. The boozy cocktail starts off as a regular Manhattan, with whiskey, sweet vermouth, and bitters, but then they smoke it with mesquite and a blowtorch. Another favorite is their Mr. Fancy Pants: mezcal, Campari, and Cynar. It's bitter and smoky — a great alternative to whiskey. They don't skimp on the simple stuff either. The Moscow Mule has real bits of ginger in the fresh ginger soda, not that sugary canned stuff. Pint + Jigger recently opened a quieter, more intimate speakeasy [Harry's Hardware Emporium] right next door; to find it, look for the warehouselike door near the bathroom. Inside you'll find décor that looks like it's straight out of The Great Gatsby. I feel like I have a handlebar mustache when I hang out here." —Yooey Kim, bartender at The Pig & the Lady and Piggy Smalls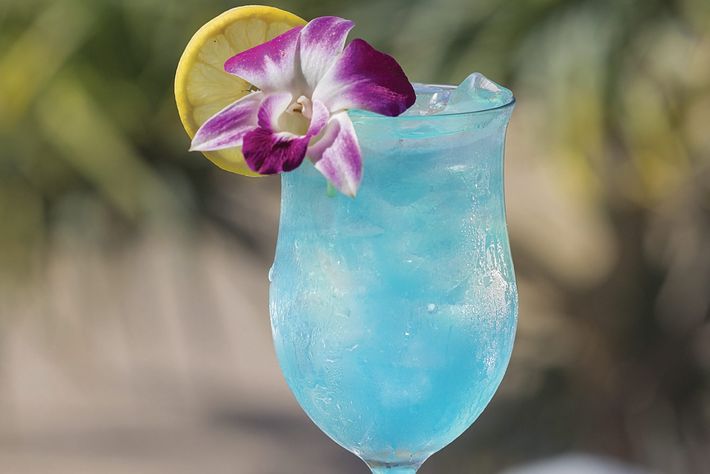 For a Blue Hawaii, go here …
Hilton Hawaiian Village
"The only place I would want to get a Blue Hawaii is where it originated. Harry Yee's creation is best drunk under the fireworks that go off here every Friday night at 8 p.m. Grab a seat by the lagoon and watch the extravaganza." —Christian Self
For a commercial sports bar, go here …
Waikiki Brewing Company
"Waikiki Brewing has two locations, one at the Cheeseburger in Paradise restaurant on Kalakaua Avenue and the other in Kaka'ako. The original location on Kalakaua has lots of open space with TVs playing sports; you can order truffle fries and wings with a barbecue sauce made from their Black Strap Molasses Porter, which won second place at the Great American Beer Festival. They also have a great wheat beer — Hana Hou Hefe — made with strawberries; it's refreshing on a humid summer day." —Carrie Golish, "beertender" at Honolulu BeerWorks, an open-air brewery in Kaka'ako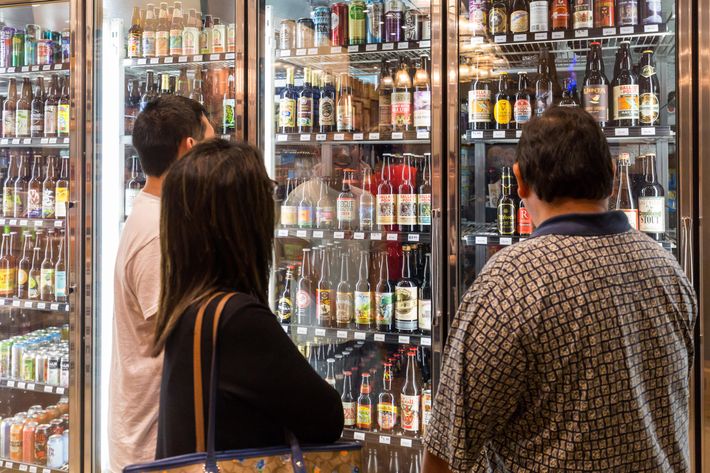 For local craft brews, go here …
Village Bottle Shop & Tasting Room
"Village Bottle has 18 rotating taps, featuring local beers like Lanikai Brewing's Pillbox Porter, plus wine and bottles to go. I like going there for a nightcap because they always have something sour on tap; it cleanses my palate. The food menu includes prime rib–dusted popcorn, Japanese curry, and beef potpie. Or you can bring in food from the [nearby] Salt shopping complex, like a hot dog from Hank's or a pizza to go from Moku Kitchen." —Carrie Golish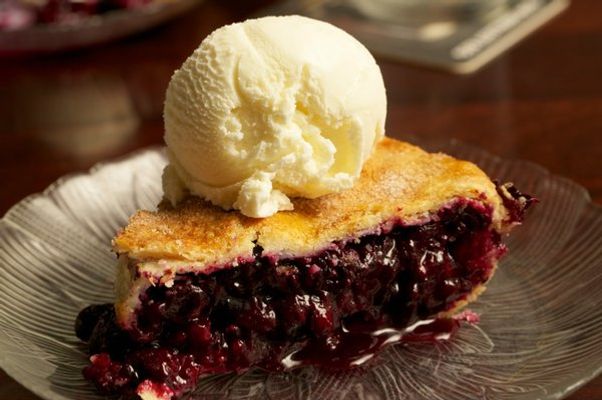 For a family-friendly Irish bar (with pie!), go here …
Murphy's Bar & Grill
"I'm a four-foot-ten-inch Asian girl, but an old man at heart. Murphy's is a very traditional, no-frills Irish bar, run since 1987 by Don Murphy. They have shuffleboard and still use a vintage cash register that looks like it's from the 1920s. But what really separates this Irish bar from other Irish bars in Honolulu is that you don't get the wasted college-frat-boy riffraff. There's a dining-room section serving traditional Irish food like shepherd's pie and corned beef and cabbage, so it's more family-oriented. The bartenders remind me of TV bartenders — you know the type that are always polishing glassware and listening to everyone's life stories. Most of them have been with Murphy's for over a decade. Also, Friday is pie day! Mrs. Murphy always bakes fresh homemade pies on Fridays and they are divine. My favorite is her blueberry pie; make sure you get it à la mode with their real vanilla ice cream!)." —Yooey Kim
For more tasty bar food, go here …
Home Bar & Grill
"From the outside, it looks like a plain wooden shack with blacked-out windows, so you wouldn't expect this to be a poppin' spot — but seriously, they are busy all the time. The inside isn't fancy: The décor has generic beer signs and promotional posters, and the TVs are always on with regulars mindlessly zoning out. Most people are drinking Coors Light, but the food — Home Bar is the king of bar food, hands down. I will fight anyone who disagrees. The prices are cheap, the portions are huge, and everything is so good: fried noodles, poke, sashimi, kalbi, fried rice, plus rotating specials like prime rib. In true bar-food fashion, they do French fries with fried pepperoni, Parmesan cheese, and garlic aïoli dip, and tater tots covered in nacho fixin's like sour cream, salsa, and cheese." —Yooey Kim
For a casual wine bar, go here …
Tchin Tchin! Bar
"The hipster décor of this place makes it way less stuffy than your average wine bar. The atmosphere is dimly lit with rustic-looking booth seating and huge cushions. The outside patio has low tables, comfortable white couches, and cute hanging lighting. It feels like you're in someone's backyard. But the thing that really takes the cake here is the living wall: an entire wall covered with plants. Rotating flights allow you to sample different wines, but they also offer an extensive liquor selection with a lot of whiskey. It's the perfect date-night spot." —Yooey Kim
For whisky and hip-hop, go here …
Manifest
"If I get off work early, or my crew does, Manifest in Chinatown is usually our destination. It's casual and cool with red brick and concrete — a coffee shop by day with revolving art exhibits, and a bar in the evening. They often have DJs playing a mix of hip-hop, '80s, and electronic, and there's a wide-open area for dancing. They also have the best whiskey selection in town, from Booker's 25 to Japanese whisky." —Christian Self
For karaoke day or night, go here …
Wang Chung's
"Although Wang Chung's labels itself as a gay bar, everyone is welcome. The house rule for karaoke is that everyone must cheer or clap, no matter how bad the singing is. Everyone wins! Unlike most karaoke bars in Honolulu, where you have to dig through huge old books for song selections, Wang Chung's has an easy iPad system for choosing the latest Top 40 hits or your favorite Disney princess songs. The inside has anime-inspired décor and a vibrant color scheme, and their drinks are fun and flirty: The Lychee Co-Tini is a lychee Martini with Japanese yogurt Calpico. [Food-wise], they do light appetizers, Asian-style snacks, and Kalua pork nachos, and they're open for brunch on Sundays. Singing, drinks, and brunch are three of my favorite things." —Yooey Kim
For a local (mall) hang, go here …
Mai Tai Bar
"Yes, it's in a mall. But the Mai Tai Bar at Ala Moana Center is the best place to hang out with locals — everyone from construction workers and college kids to shopping moms and business execs. I don't come here expecting handcrafted ice cubes; just a good drink and good people watching." —Amie Fujiwara, bartender at Duke's Waikiki and co-author of The Cocktail Handbook: Cool Drinks from Hawaii's Hottest Bartenders
For a tiki time warp, go here …
La Mariana Sailing Club
"La Mariana is the last original tiki bar in Honolulu. When it opened in 1957, it acquired original fixtures, furniture, and fittings from the world-famous Don the Beachcomber and Trader Vic's. It's tiki paradise. They do piña coladas, mai tais, and a mean Lava Flow, which is a blended piña colada poured into a glass with strawberry purée. Swing by on a Sunday when the La Mariana regulars put on a live show, playing ukulele and piano in their mumu and Aloha attire. This is where I take people when they first get off the plane, or as a last stop before I drop them off at the airport." —Christian Self