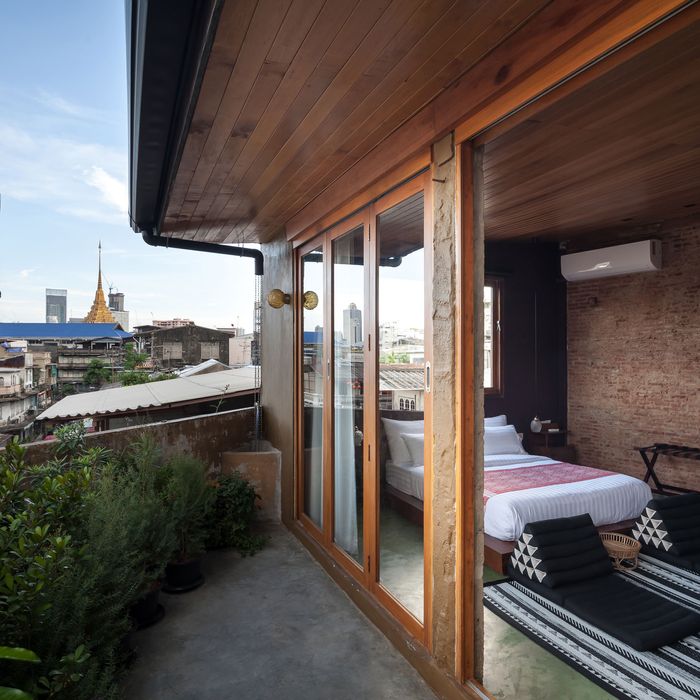 Santiphap room at Bā hào in Bangkok, Thailand.
Photo: Ketsiree Wongwan/Courtesy of Ba Hao
In a city as sprawling as Bangkok, with traffic so gridlocked you're sometimes better off walking, where you lay your head at night matters. We asked four local aesthetes to give us their best hotel recommendations, from high-style hostels to luxe rooftop cottages.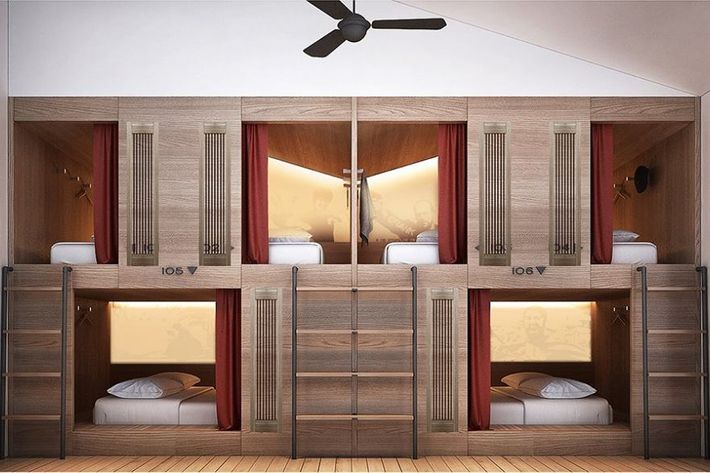 Prince Theatre Heritage Stay (from $30)
"I like this place because it has a long history — going back to 1917 — as one of Bangkok's oldest stand-alone cinemas. It was abandoned for years and really run down, but it survived many proposals for high-rise building projects. The current owner decided to restore and renovate the interior instead of demolishing it. Now it has a nice 'box office bar' serving movie-themed drinks like the Sweet November mocktail, featuring coconut water, candle-scented coconut milk, and coconut syrup. Friendly staff, too." —Sarinya Manamuti, co-founder of the Bangkok Screening Room
Lub d Hostel (from $11)
"Style-obsessed backpackers should stay at this hostel, which has a large communal area for strangers from different countries to meet and mingle. It's been around for more than a decade now, and is widely known as a hub for the budget-traveler community, purely through word of mouth." —Pow Foongfaungchaveng, founder of swimwear line Timo Trunks
JOSH Hotel (from $37)
"JOSH is located in Ari, which is Bangkok's version of Soho, complete with art galleries and dozens of cafés, bars, and condominiums. The hotel is cheap and cheerful: Think Wes Anderson meets Thai design from the Rattanakosin era. The pool is super-chic and the restaurant features the cuisine of Ko Samui, translated with no pretense and pure authentic taste." —Pow Foongfaungchaveng
S31 (from $83)
"This low-key luxury hotel has got it all: a swimming pool, a gym, and a location within walking distance of the BTS Skytrain and the EmQuartier mall. It was the first Bangkok hotel to offer two-level duplex suites. The rooms are bright and the color scheme is monotone. If you want to be extra fancy, book the penthouse. It has a private saltwater swimming pool, a home theater, a kitchenette, and three bedrooms. You can dim the lights, so it's perfect for throwing a party." —O Thongthai, jewelry designer  
J No. 14 (from $49)
"I stayed at this hotel once and am completely in love with it. It's a very hidden spot in the Old Town area, with a friendly owner and recently renovated rooms. It feels like you're in someone's home that has been decorated with plants, taxidermy, ceramics, a piano, and tiles. They even allow you to bring pets, which is very rare in Bangkok." —Tachamapan Chanchamrassang, a.k.a. Pomme Chan, artist and graphic designer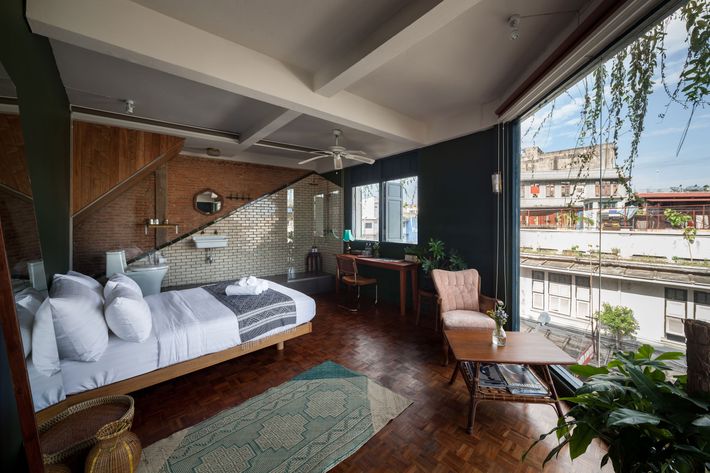 Bā hào (from $96)
"Bā hào is a small bar and restaurant on the corner of Soi Nana in Chinatown. There are only two rooms, bookable through their site and Airbnb, but they're like a home away from home. The light is warm and the sofa is cozy in the shared living room — a different setup from the bar downstairs given its brick walls, cute tiles, and patterned wood floors. The first bedroom, Maitri Chit, is about 269 square feet, with a sexy bathroom and a view of Yaowarat Road. The second bedroom, named Santiphap, is smaller, but it has a balcony. The location is perfect, too. You can explore the Yaowarat neighborhood during the day and bar hop to nearby Tep Bar, Teens of Thailand, Asia Today, FooJohn, and Tropic City at night." —O Thongthai
Arun Residence (from $120)  
"This is a nice spot to have drinks and enjoy the scenery along the Chao Phraya River; I've gone there a couple times for local beer when the sun is setting. The nicest room is actually a detached 'haveli' with Indian design accents and a clear view of Wat Arun, the Temple of Dawn." —Sarinya Manamuti
Amdaeng Residence (from $88)
"This started off as more of a budget hotel, but it has gone up in price because of its popularity. After the passing of King Bhumibol Adulyadej, it became very trendy among Thais to celebrate Thai heritage. The décor of this hotel is very traditional — it's like living in the old days." —Pow Foongfaungchaveng
The Sukhothai Hotel (from $156)
"Star architect Kerry Hill and interior designer Ed Tuttle are behind the Sukhothai Hotel, one of Asia's most original properties. Its opening marked a new era in boutique Thai hotels; to date, no one has managed to beat its iconic, minimalist design. Every style-oriented personality I know, from the editor of Monocle to the founder of the LUXE City Guides, would stay here." —Pow Foongfaungchaveng
The Cabochon Hotel (from $142)
"This place gives me such good, positive energy. It's located in a prime area of Sukhumvit, but it's so calm you feel like you're in the suburbs. It's decorated in muted colors and packed with interesting vintage items, like beautiful blue and white tea sets. The hotel is pretty small — only nine rooms —and the people who stay here are quite mature; there's no noise or loud music at night. I also love their Thai breakfast, which includes oxtail soup, porridge with oysters and mackerel, a Thai-style omelette, and deep-fried pork served with a spicy sauce. It's like a real local breakfast — something most other hotels wouldn't serve." —Pomme Chan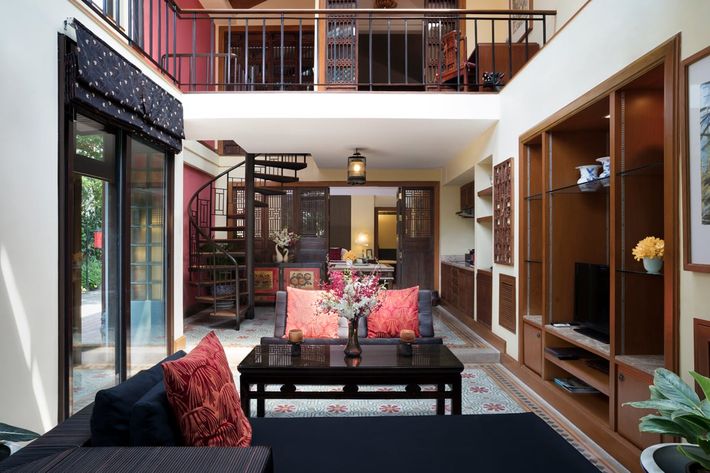 Chakrabongse Villas (from $134)
"The Thai royal family had this historic seven-room home built in 1908; its old-world rooms reflect those regal roots. The location is just steps away from popular spots like Museum Siam and Silpakorn University. It also serves authentic, seasonal Thai dishes that can be hard to find these days, like khao chae [flower-infused rice soaked in cold water]." —Sarinya Manamuti
Grand Hyatt Erawan (from $172)  
"Its new Tony Chi–designed 'spa cottages' appeal to the world's most well-traveled people. Located on the fifth floor, these are actual cottages in the middle of the city, complete with an outdoor courtyard, garden, and more than 1,000 square feet of space. It is Bangkok's best-kept secret for the modern posh set." —Pow Foongfaungchaveng
Park Hyatt Bangkok (from $278)
"The Park Hyatt opened in May 2017 and it's still one of the best things that's ever happened in Bangkok. I'm really impressed with the attention to detail here; it's like your life is suddenly a movie. I can go up to the penthouse, get a cocktail, chill by the whiskey bar, and be happy. The hotel sits on top of Central Embassy, which is one of my favorite malls. It has Eathai, a luxury food court offering all the best street food in one place; Open House, a bookstore that's so much more than a bookstore; and Siwilai City Club, comfort food with a beach-club vibe in the middle of the concrete jungle." —O Thongthai
The Siam Hotel (from $513)
"Everything here is so beautiful—the decorations, the trees, the pool, the service…. It's a really magical place. One of the owners [creative director Krissada Sukosol Clapp] was a famous singer and actor. He's passionate about vintage furniture, so this hotel is like his museum. They have, for example, very old-fashioned cinema chairs in their small screening room. The service isn't fussy, either; the staff is friendly but not too chatty, which is perfect." —Pomme Chan