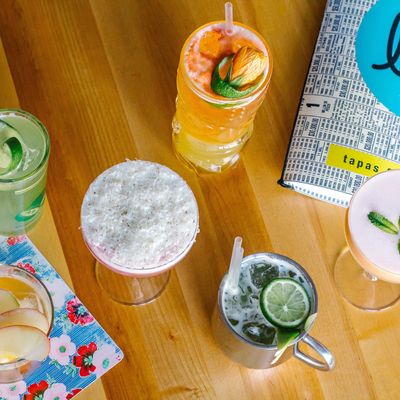 Lolo in San Francisco.
Photo: Courtesy of Lolo
Nicolas Torres, a San Francisco native, has been tending bar for more than a decade. But he rose to prominence as the experimental bar director for Lazy Bear, one of the most creative restaurants in the city. His cocktails — imaginative, but never at the expense of balance, like his Mai O Mai, a coffee-rum and pistachio-orgeat twist on the original — are so good that he and Lazy Bear chef David Barzelay decided to open a separate bar just to showcase them. (That'd be True Laurel, their new mid-century spot in the Mission.) Point being: Torres knows his booze, and these are the bars he haunts when out from behind his own.
For post-shift drinks…
LoLó
"I really like this Mexican restaurant on Valencia. They have amazing margaritas. They use good tequila, lime, sweetener, and a little bit of their own house orange bitters. Really simple but they're always made right. Most of my outings are typically when I'm getting off work; if it's on the later side, I have to find places that are still serving food — Loló is one of them. They serve until midnight on Fridays and Saturdays. Their chicken tinga is on fire. It's just simple, shredded chicken in a classic Mexican red sauce, with pickled onions on top, served on a homemade tostada. They also have a very handsome crew. All their guys are, like, six-feet-tall — studs. Leon, the bartender, is good friend of mine. We vibe off each other to build drinks. We get pretty geeky. He'll try crazy stuff — like shredding parmesan on top of a drink. It tasted good but read weird."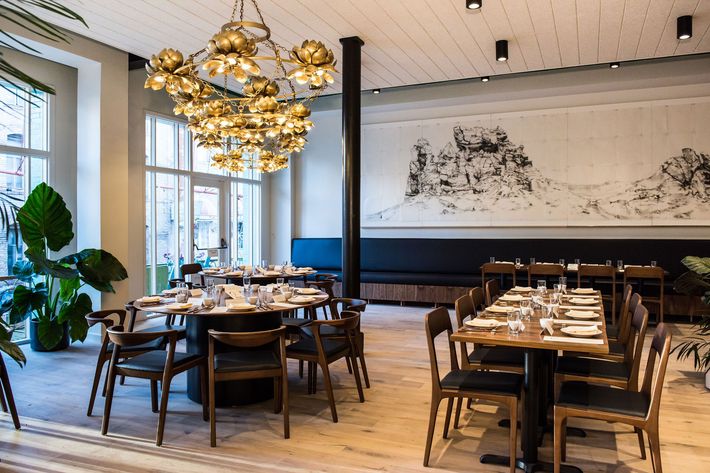 For weekend nights off…
Mister Jiu's
"I'll walk through the Stockton Street Tunnel, all the way up to Chinatown, and go to Mister Jiu's, a Michelin-starred restaurant with this beautiful build-out. There are fish tanks behind the bar and the bar top is beautiful; it looks like black marble. Danny Louie, the bartender, had a lot of input on the design. Danny's drinks are amazing. He's not into showiness and he changes his drinks all the time but keeps the same names. The Happiness, when I had it, was a twist on a pineapple daiquiri with chrysanthemum and secret Chinese herbs; now it's a gin-and-jasmine tea construction, with honey, lime, and sour apple. His cocktails are simple and refreshing but always have depth and layers."
For a divey happy hour away from the crowds…
Uptown
"This is a good 5 o'clock spot, 'cause it's so beat, it's almost dead. One of the bartenders, John, has been bartending forever and is a great conversationalist. It's a neighborhood spot, open for over 25 years. The owner passed away maybe four years ago and the block is under threat [from new development]. But the bartenders banded together and started a co-op. So it's now owned by the people who work there. It's got an island bar and a pool table in the back that's overly lit. This is a shot-and-a-beer kind of place, so I'd just get a Budweiser."
For superior no-frills cocktails…
Dalva
"On 16th Street, there are a slew of bars and they're very styled out: Kilowatt is a metal bar, ABV is the cocktail bar, Double Dutch is the hip-hop bar. They all fit certain characters. At Dalva, a divey neighborhood bar, you see people from different walks of life. There's a little bar in the back, called the Hideout, that has good, cheap cocktails. On Fridays and Saturdays people try to cram in there, but the thing that gets forgotten is that almost every single bartender at the big bar up front [Dalva proper] has either worked in other cocktail bars or does both shifts. So any one of those bartenders will make you a damn good Tom Collins, which is what you should be drinking anyways."
For natural wines…
Ruby Wine
"Ruby is this really cool wine shop and wine-tasting spot on Potrero Hill. They'll pretty much open all of their bottles [and serve them] by the glass. They carry an eclectic selection of mostly organic and natural wines. It's not for everybody but if you're looking to try something different, Ruby is really nice."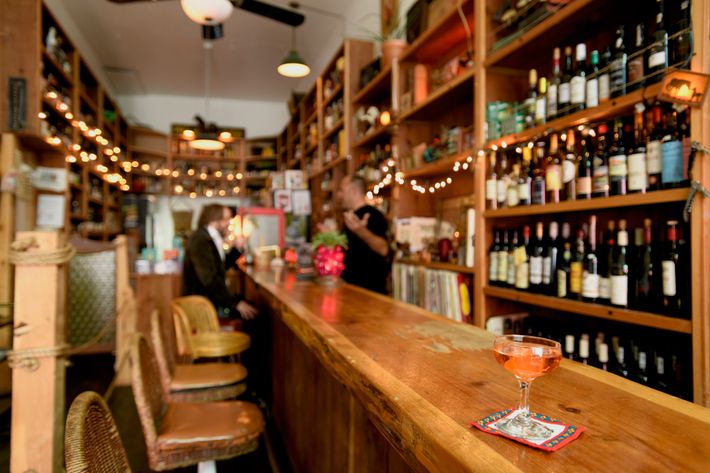 For fortified wine cocktails…
Royal Cuckoo Market
"Royal Cuckoo is a market and bar in the outer Mission, run by this guy Paul Miller. Originally [the market] was just supposed be a bottle shop, but then he put in a little bar called the Pony Bar, where he only serves wines, fortified wines, and fortified-wine cocktails. There aren't that many places where you can walk in and be like, 'Give me a Pineau des Charentes,' an aperitif-style fortified wine from the Cognac region. But he carries it and he'll pour it by the glass. It's super cute, too, because you can just tell it's the work of one man's dream — it's this eclectic entanglement of all this stuff that he likes. He's got a great bottle selection and an espresso machine. You can buy fresh fruit. And there's vintage cocktailware."
For 24-7 eats…
Silver Crest Donut Shop
"I have an infatuation with this place. It's been open for, I don't know how many years, but they have never closed. Ever. In fact, their sign even says 'We never close.' It's an old diner, run by a Greek couple, with pinball machines from the '50s. It smells like an old bar — but not in a bad way. They clean the place; they just can't get rid of the smell of oldness. There's this little bar in the back and if you get on their good side, they'll start giving you ouzo shots and playing Greek music off of their jukebox. If you're not on their good side, get a bottle of Coors and shoot some pool. They serve food, too, but they only have one employee. You can walk in at any time and be like, 'Can I get a hamburger?' They might be slow making it, but it'll be good."