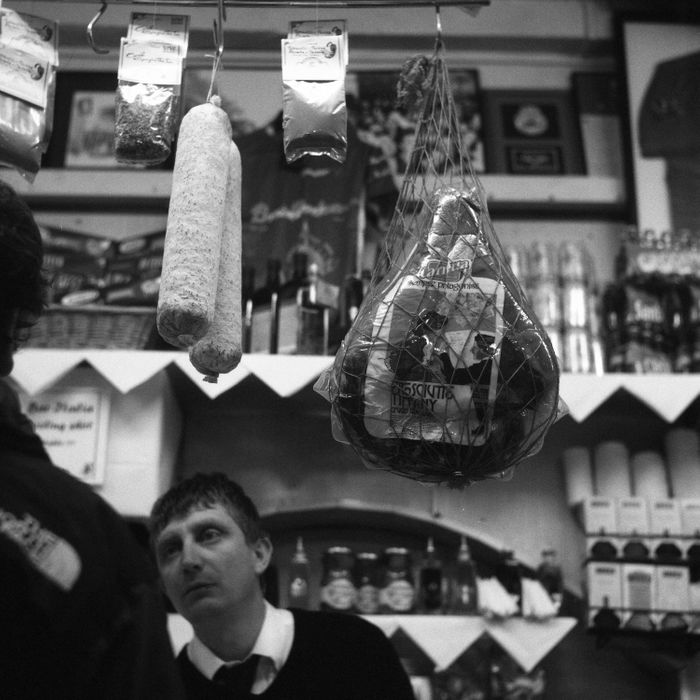 Bar Italia in London.
Photo: Matteo Prezioso/FlickrVision
Since launching out of London a handful of years ago, The Gourmand has garnered a cult following for its whimsical take on contemporary food and culture. The biannual journal's latest issue came with a line of T-shirts featuring art from the cover story on IRL food emojis, while its annual Dog Eat Dog charity calendar, which presents canine models named after food, posing with food (to wit: Piccalilli with a wedge of cheddar or Biscuit with a cup of tea), always sells out. This is a magazine you collect: With exclusively commissioned writing and imagery on paper from specialist printers, it's almost like an art book. It has even been exhibited at London's Design Museum, and recently introduced Gourmand Editions, selling the most striking images as limited-edition prints signed by the artists. All of this comes from the minds of David Lane and Marina Tweed, co-founders and co-editors-in-chief (he's also the art director of Frieze magazine). For the couple, food is muse and East London is home. Here's where they eat and drink.
Breakfast
"We live right by the Regent's Canal in Hackney, and halfway between home and our studio is the Towpath Café — a hole-in-the-wall counter and kitchen with outdoor seating, serving up simple dishes of Italian-inspired comfort food. It's only open seasonally, so for me, dining there is a symbol of summer. I avoid going at weekends as the canal in general can get super-busy, but on a weekday it's perfect for breakfast or just a coffee before I get to work. The menu varies day-to-day but usually includes toast and jams, granola or porridge with berries, fried eggs, or beef tomatoes on toast. There are no reservations; you find a table, order at the counter, and then drop your ticket into the kitchen. It's also great for lunch, dinner, or cocktails at sunset." —Marina Tweed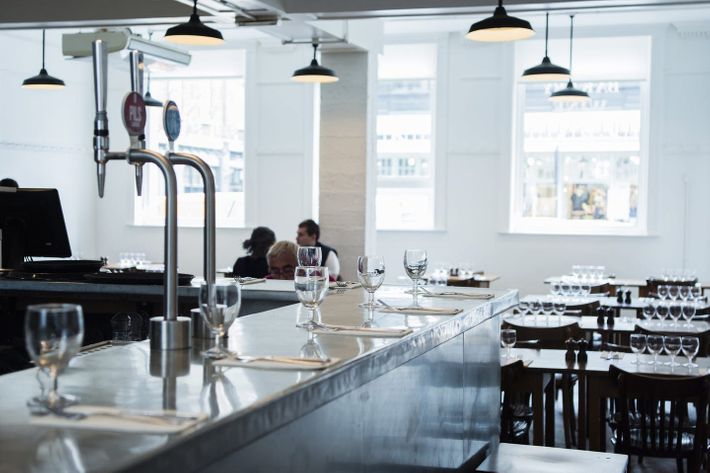 "The atrium bar at the original St. John in Smithfield is a wonderful room to snack and drink in the afternoon and evening, but its sister dining room — St. John Bread & Wine in Spitalfields — is the place for a calm breakfast. Open and stark, with only coat hooks as decoration, filled with the sound of chatter and the smell of baking and coffee, it's the perfect spot to read a paper and think about the day to come. The bacon sandwich is unarguably one of London's best, and the blood cake served with fried egg and brown sauce or the kippers on toast are good, hearty alternatives. As its name suggests, you can also buy fresh bread and wine to take home and enjoy later in the day." —David Lane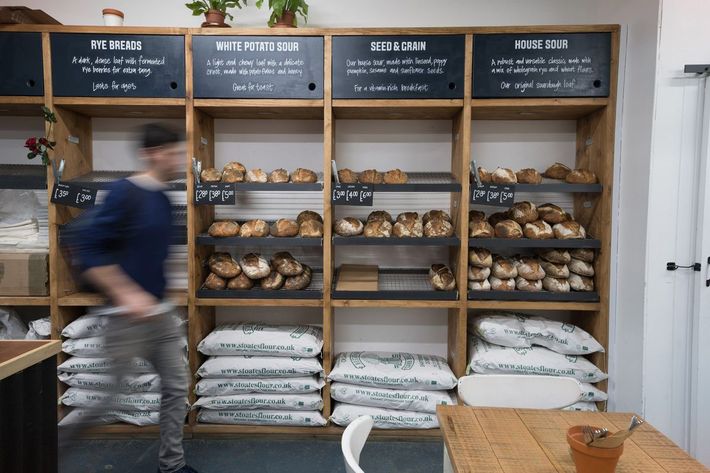 Lunch
"Last year, Dusty Knuckle opened in an old car park in Dalston. It's predominantly a bakery, so the bread is reason to visit alone. But the sandwiches are incredibly big, messy, and delicious. To name a few: roasted aubergine, tahini yogurt, egg, salad, and coriander dressing; pork belly, garlic puree, and braised broccoli; or — my favorite — pork meatballs, tomato sauce, Ogleshield cheese, crème fraîche, and pickled cucumber. Salad and a soup are also on offer as are sausage rolls with piccalilli alongside other baked goods and cakes. It gets busy at lunch but it's usually only a few minutes wait for a seat, and in the summer there's plenty of outdoor seating." —Marina Tweed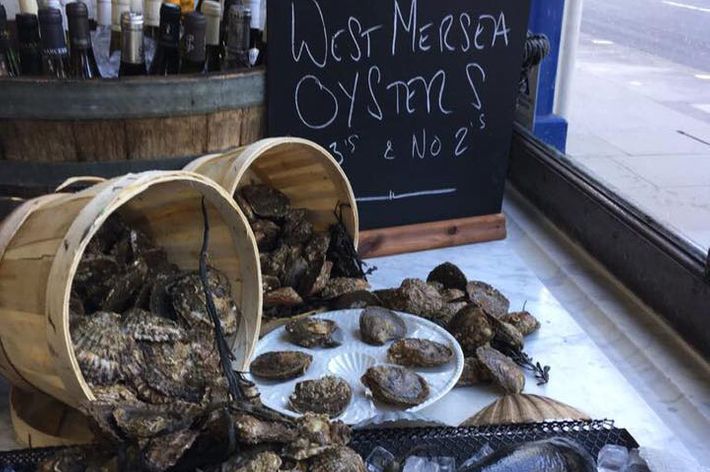 "On the corner of Queen Victoria Street in the heart of the City is Sweetings, London's oldest fish and oyster restaurant. Only open for lunch, everything is old-school, from the pinstripes and pocket squares of the bumbling punters to the buttered brown bread sitting ready on the counters. As a treat I go for lunch, drink black velvets (Guinness and champagne served in half or pint-sized silver tankards) and eat oysters followed by fresh fish. And if there is still room, a portion of roes on toast, buttery and delicious, from the 'Savoury' menu — a lost British course as old as the restaurant itself. There are also classic British puddings, like spotted dick or sticky toffee pudding, but I seldom leave room. I would avoid Mondays as the fish market is not open, or if you have no choice opt for cured or smoked fish or a fish pie." —David Lane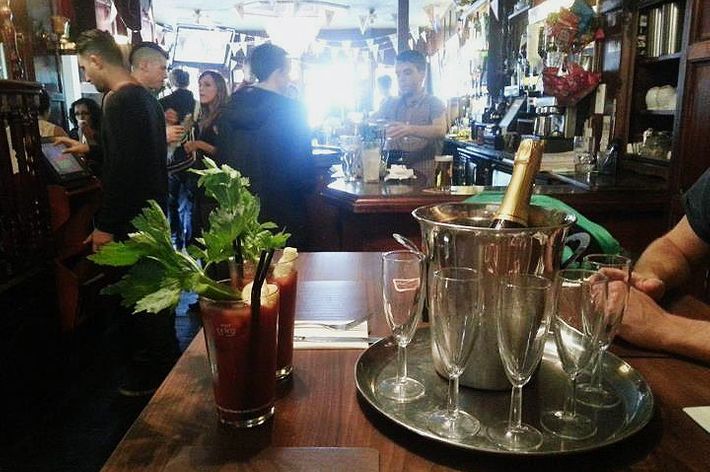 Pre-dinner pint
"The Marksman on Hackney Road was, and still is, a proper East London locals pub. But in 2015 chefs Tom Harris and Jon Rotheram took over and brought with them their exceptional cooking. In 2017 it won Michelin pub of the year, and the best thing on the menu is the beef and horseradish bun: British minced beef in gravy stuffed in a Chinese-style bun with creamy horseradish sauce. It's amazing. There's also a cool room upstairs designed by Martino Gamper that's perfect for big groups. It's great for a pint before dinner, or with dinner. I used to live round the corner and always bump into friends whenever I go; it's definitely kept up that local feel." —Marina Tweed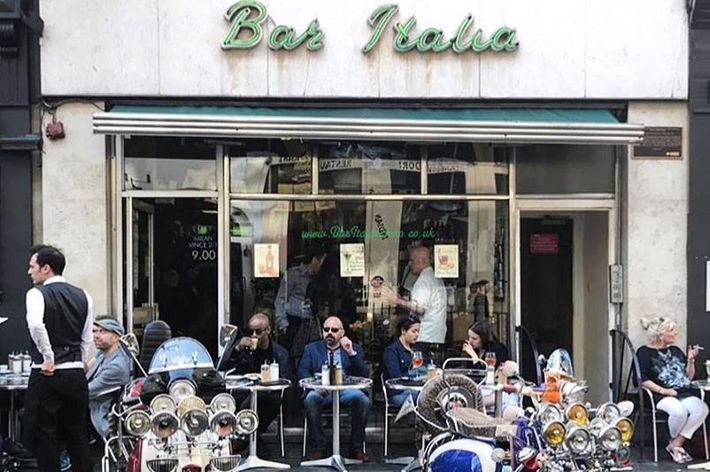 Evening aperitifs
"Bar Italia opened in 1949 on Frith Street, in Soho, and the flooring, décor, and fixtures remain very much the same, with the exception of the flat-screen TV mounted on the wall and blurting out Italian news or sports. The best seat in the house is outside on the pavement though, weather permitting. If it's a sunny evening I like to sit outside drinking huge Negronis and watching the locals and tourists strolling around as their evenings begin. There is nothing I can think of that feels more like being on holiday in my own city, and you will always see someone you know, or know of. So generous are the cocktails that one is enough and three probably too many. You can get pizza to soak up some booze." —David Lane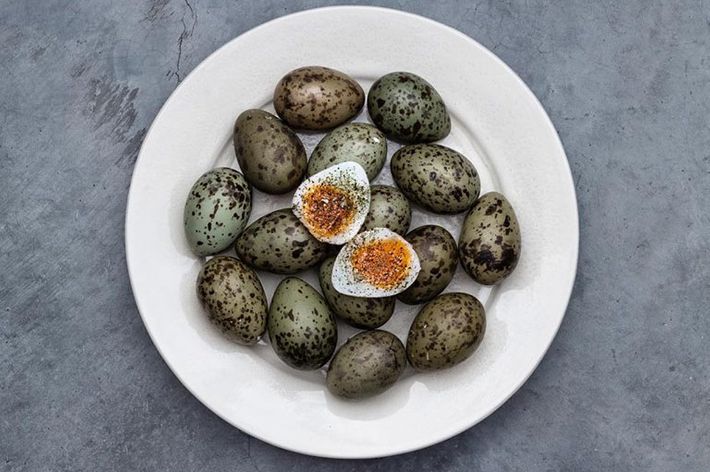 Dinner
"Since becoming a mother, eating out for dinner is a rare luxury, so I tend to avoid no-reservations restaurants (hate the thought of paying a babysitter whilst I queue!) and opt for establishments that you can book, of which Lyle's is one of my favorites. The best thing about it is that you don't have to choose what to eat — the hardest part of any meal for me. There's a set menu of four courses made with locally sourced and seasonal ingredients. You're not rushed to get out in time for the next cover, so it's the perfect place for a catch-up with a friend or a special-occasion dinner. The pared-back interiors, the staff, and the fantastic wine list are all reason enough to want to go back, but they also have a brilliant guest series, inviting chefs from around the world to bring their key ingredients to the Lyle's kitchen. They were awarded a Michelin star in an impressive time after opening, so be sure to book in advance. If there are two of you, try ordering the vegetarian as well as the regular menu and that way you can taste absolutely everything." —Marina Tweed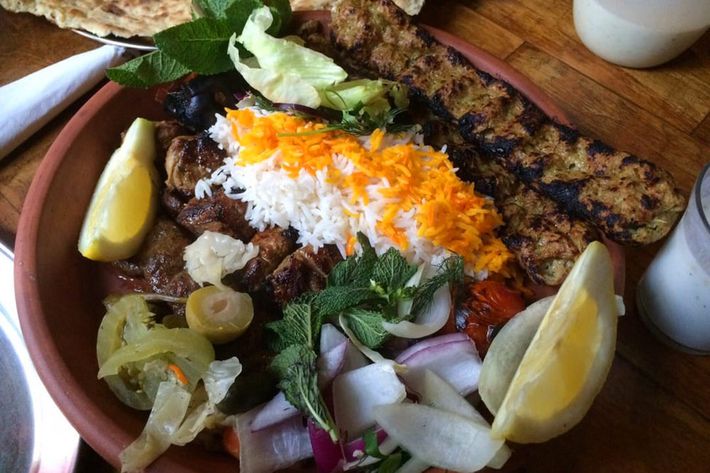 "Just off the Edgware Road on a side street near the Tube station is this little Persian restaurant, Patogh. It's friendly, generous, and unpretentious, and it makes me happy. The kitchen is tiny, just big enough for three smiling older Iranian men to bustle around each other grilling chicken, lamb, or fish over coals; preparing huge sour flatbreads, made to order on a dusty hotplate; and chopping fresh salads with herbs, radishes, and pickles. Silky hummus and baba ghanoush — the kind with plenty of tahini and olive oil — are on the house, and you can wash it all down with fresh-minted ayran (a yogurt drink). It's amazingly cheap, but cash only, so come prepared." —David Lane
Post-dinner pint
"There are lots of great pubs in London, but like many people, my favorite is my local, The Wenlock. On the corner of a dead-end road, a ten-minute walk from Old Street station, it's a public house in the true sense of the word: It serves the community. And in an area where all parts of society cohabit, it reminds us that deep down we are all equal and enjoy the same pleasures in life —at least those you want to spend your evening with do. It's the kind of pub that you can pop into and ask, 'Has anyone got a crowbar I can borrow?' and ten minutes later someone's gone home to get you one. (That actually happened.) It was refurbished fairly recently, not so much that it's lost its charm though. They have a brilliant ale selection with house favorites alongside ever-changing guests. I always go for Harvey's if they have it — it's the brewery in Lewes, where I grew up, so a great home-from-home for me. And I love the simple food menu, with boiled eggs and cheese toasties." —David Lane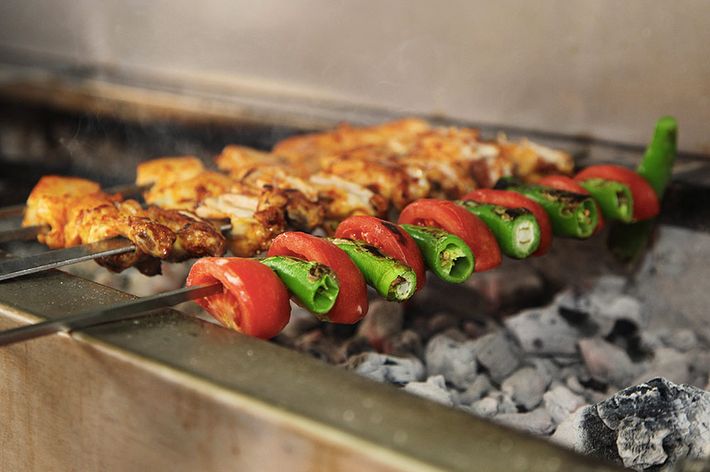 Late-night snack
"Somine in Dalston is perfect for a late-night meal; it's open until 2 a.m. during the week and 5 a.m. on the weekends. Alongside traditional Turkish starters, kebabs, soups, and salads, they also offer homemade stews that are served with rice, salad, and a pile of Turkish bread. They vary daily but I would usually opt for the lamb and aubergine or the vegetarian option. The service is quick and the vibe is a great mix of locals and revelers. There's also a menu written in Turkish, which has specialities not included on the regular menu that I've yet to try!" —Marina Tweed