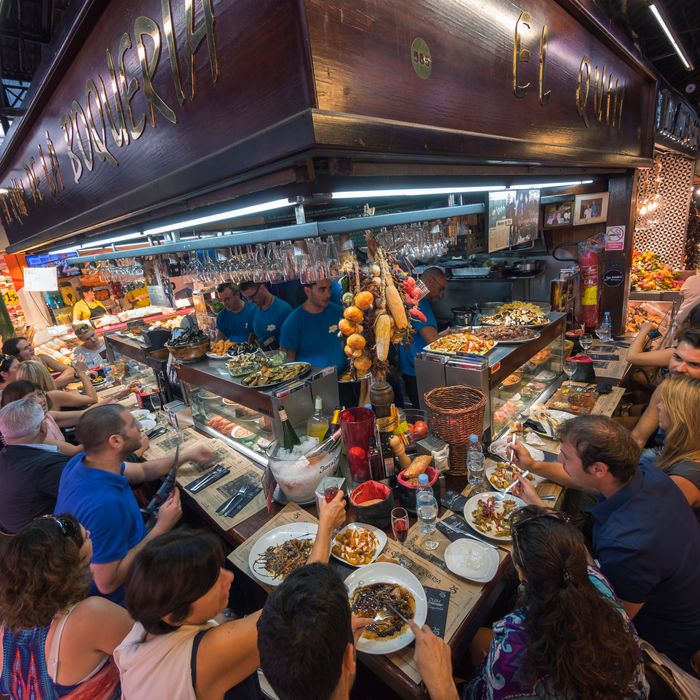 El Quim de la Boqueria in Barcelona.
Photo: Jon Hicks/Getty Images
Barcelona is a city of markets. Every neighborhood has one, and though grocery stores do exist, the markets are where most locals do their daily food shopping. These aren't your run-of-the-mill farmers markets either; they're full-service bazaars with dry goods, fresh produce, restaurants and bars, butchers, fishmongers, candy shops, and more. In addition to grocery shopping, locals visit the markets to eat — but the trick is knowing which bars are worth dining at, and which are just there for utility.
Enter Lucy Garcia, a producer and fixer for television personalities like Anthony Bourdain, Phil Rosenthal, and many others. She has lived in Barcelona for the last 20 years and knows Mercat de La Boqueria, Mercat de Santa Caterina, and Mercat del Ninot inside and out. Here's her guide for what's good at each.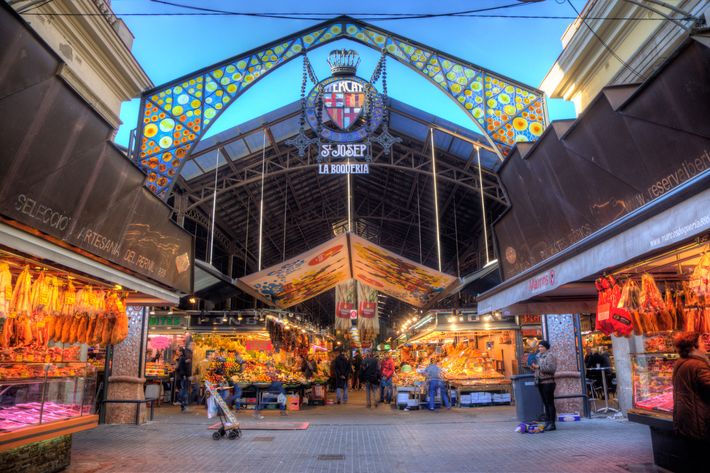 Mercat de la Boqueria
Where to eat: "The two best bars in La Boqueria are Bar Pinotxo and El Quim de la Boqueria. It's not unusual to find chefs like Albert and Ferran Adrià and José Andrés eating at them. One of the things that really stands out at Pinotxo is the owner, Juanito Bayan, and his charming, attentive service. Also look out for his famous cortados, which are creamy, frothy coffees with a dash of milk in a shot glass. This is a place I love for breakfast: their xuxos, which are fried pastries with croissant-like dough filled with cream, are heavenly. Their esmorzars de forquilla — literally, breakfast eaten with a fork — are savory dishes like scrambled eggs with seasonal ingredients like wild mushrooms, asparagus, prawns or artichokes, plus Catalan essentials like stewed veal and cap i pota (stewed pork trotters). Pinotxo is the place to go to for good traditional Catalan food. El Quim, the other favorite, has crafted some exceptional dishes over the years, using ingredients like Wagyu beef tartare and aged beef with foie gras. A popular dish with locals is fried eggs with tiny whitebait or fried eggs with chipirones (baby squid)."
What to buy: "I like the diversity Boqueria offers, with food from every corner of the planet. Soley Boqueria is one of the stalls I go to when I am looking for imported herbs and produce, like fresh turmeric, lemongrass, rhubarb, or Peruvian aji. They also give tips on how to cook certain ingredients — it's a wonderful part of our market culture. I once got a tutorial on cooking purple potatoes, which are more starchy and therefore require more care."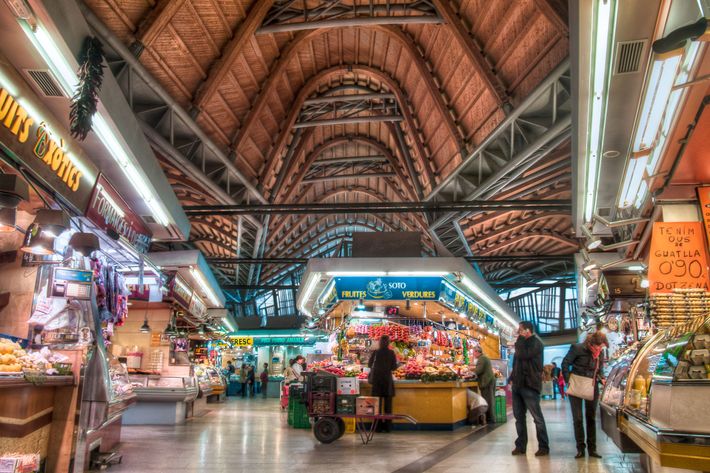 Mercat de Santa Caterina
Where to eat: "There are two bars of note in Santa Caterina: Bar Joan has a good-value lunchtime prix fixe menu for about 12 euros ($14.81 USD); it includes a starter, main course, dessert, and a glass of wine. For whole grilled fish or shellfish, La Torna is good. One of my Saturday rituals is to do my grocery shopping and then stop over at a couple of bars for an aperitif — either at the Cuines Santa Caterina bar for a glass of cava and a small tapa like a croquette, or I head to Casa Mari y Rufo, just outside the market on the other side of the street. It's common for good restaurants to be directly located outside of the markets, and people often visit for that reason. This one is a chaotic place with never-ending lines of people who come to taste their freshly grilled seafood or the grilled beef filet. Squeezing into a seat in such a noisy place might seem like a bad choice until you try the food — then you'll understand."
What to buy: "Santa Caterina may not have the status of Boqueria, but if I want to enjoy a more relaxed shopping experience in my neighborhood, this is my market of choice. I've been going to Martí Jordi, a great cheese stall here, for over 20 years. The owner serves Catalan artisanal cheeses like Tupi de Sort, along with a cold meat and ham selection. I also love the hamburgers and other meat from Carnisseria David; his brother owns the stall opposite his and specializes in offal."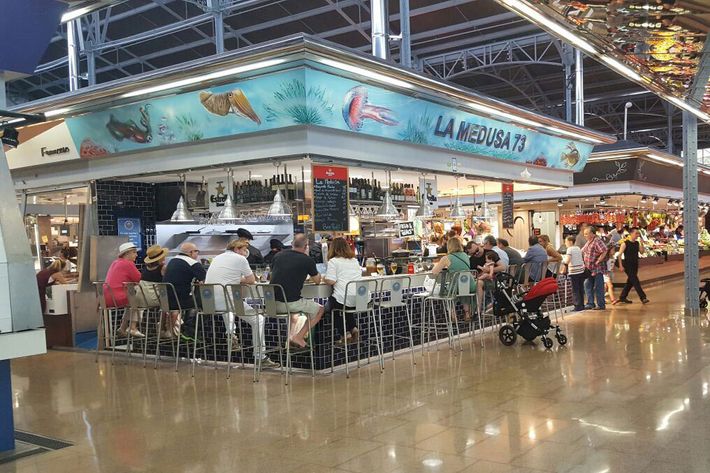 Mercat del Ninot
Where to eat: "Mercat del Ninot is a more upscale market in the Eixample neighborhood. Though it lost some stalls during a recent renovation, it gained more space. Now it's becoming a gastronomic hub, thanks in part to fine-dining neighbor Disfrutar, which recently gained its second Michelin star. Mercat del Ninot is great to visit because it's less crowded with tourists. At Bar Ket, you can grab wonderful sandwiches, like cod with green peppers, or their delicious tortillas. And La Medusa 73 is a special stall that doubles as a bar, serving excellent-quality fish and fresh vegetables."
What to buy: "Ninot caters to shoppers looking for the highest quality produce, even if that means paying more. It's also a good market to buy kokotxas, which are hake or cod cheeks — these delicious gelatinous morsels of fish that, in general, are not easy to find."